Similar to the Holy Bible, the UK's Company Law too has got its new testament.
As per 'the new regulations', small companies have been instructed to not file abbreviated versions of their accounts. But there is still a lot of confusion and speculation surrounding these changes.
This blog will take you through the basics of abbreviated and abridged accounts and will also explain in detail, what the recent developments mean for the financial machinery of companies.
Recent Developments
The UK government recently approved 'The Companies, Partnership and Groups Regulations 2015' with a view to implement the requirements of the EU Accounting Directive in UK's Company Law. The most significant changes have been made to the laws concerning the small companies regime.
These changes include:
Account formats
Information required in small company accounts
Filing obligations
Eligibility criteria for a company to qualify as a Small Company
However, it is not just the small companies that have been facing the music. There are broader implications of these changes, which are applicable to a wide range of companies and depend on individual circumstances.
Revised Eligibility Criteria for Small Companies
Following is the revised eligibility criteria for small companies: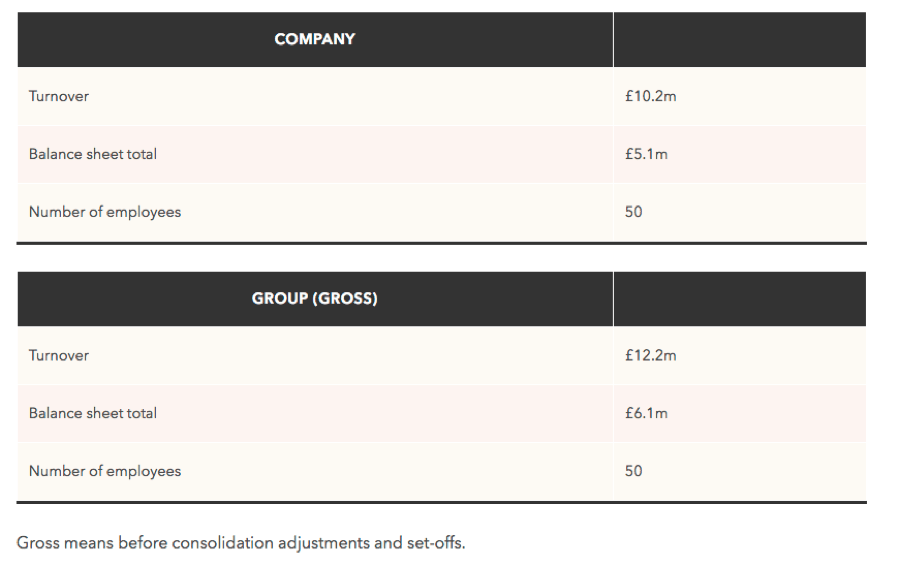 (Above data has been sourced from the ICAEW website)
Filing of Abbreviated Accounts
According to the latest changes, small and medium-sized businesses can file abbreviated accounts with Companies House, only if their accounting period begins on or before 1 January 2016.
For instance, it is possible to make use of abbreviated accounts for a twelve-month accounting period, ending on 30th November 2016. However, it is not possible to file abbreviated accounts for an eleven-month accounting period, ending on the same date.
The Basics
Before proceeding to what Abridged Accounts mean, we must first familiarise you with certain balance sheet fundamentals concerning these types of accounts.
Line Items
The balance sheet contains detailed information of each asset or debt owned by an organisation. Line items are nothing but the elements of a balance sheet and these include:
Assets:
The Assets of a company include cash, prepaid expenses, marketable securities, inventory, accounts receivable and fixed assets.
Liabilities:
The liabilities of a company include taxes payable, accounts payable, long-term and short-term debt and accrued liabilities.
Shareholder's Equity:
These include retained earnings, stock and treasury stock.
Abridged Accounts
The balance sheet of an Abridged Account needs to include only those line items that are preceded by letters (such as 'current assets') and roman numerals (such as 'debtors').
Also, the items preceded by Arabic numbers (such as 'trade debtors') do not need to be included.
True to its name, abridged accounts are used to combine certain line items and bring them under a single line item known as 'gross profit or loss'.
For companies that follow format 1 of profit and loss account, the combined line items will include cost of sales, turnover, gross profit or loss and other operating income.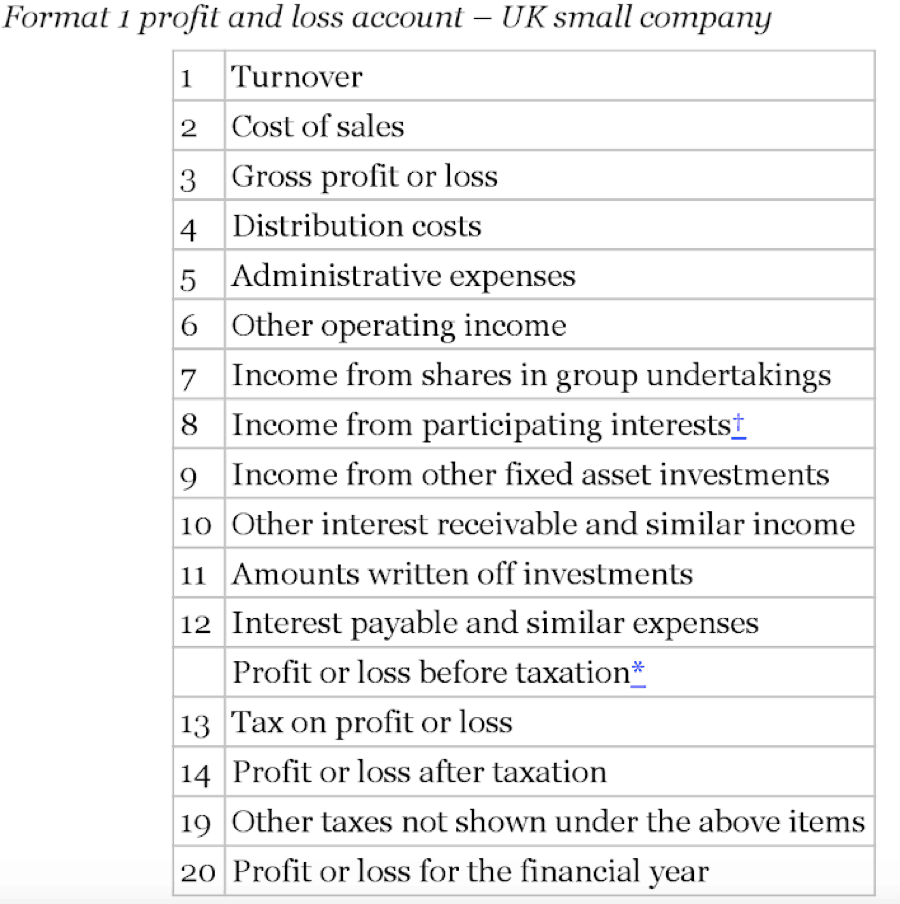 (The above data has been sourced from New UK GAAP Supplement 2016 by Ernst & Young)
For companies that follow format 2, the combined line items will include turnover, raw materials, changes in stocks of finished goods etc.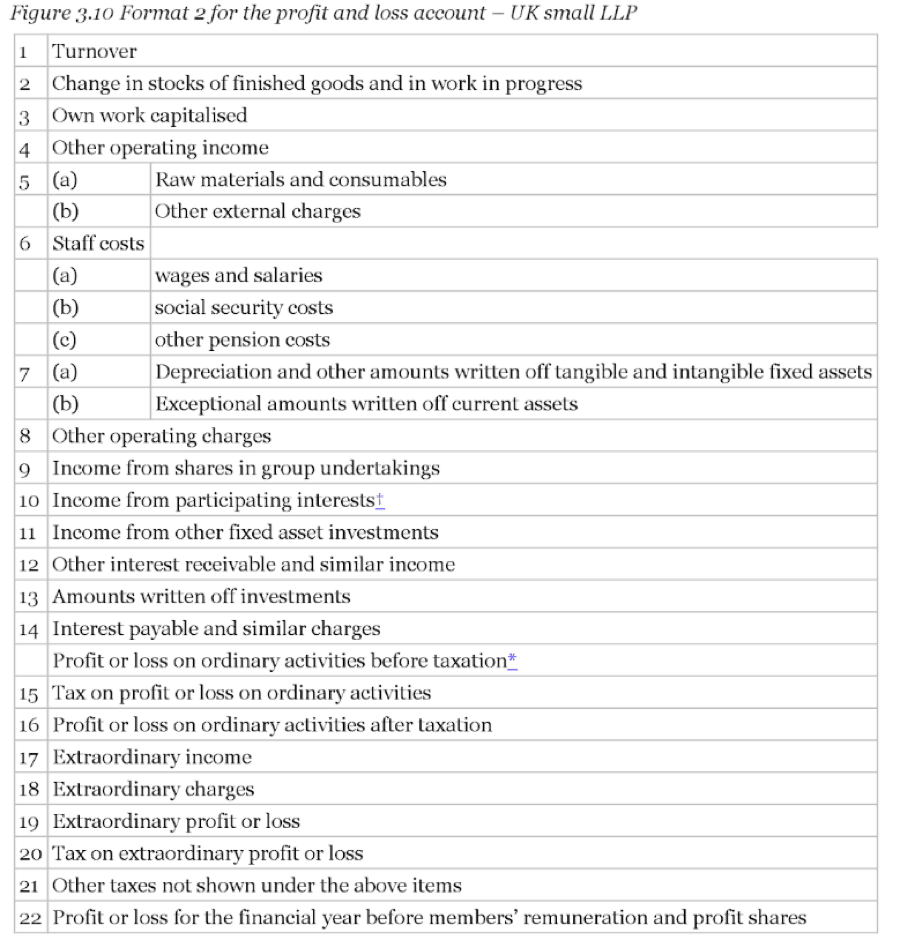 (The above data has been sourced from New UK GAAP Supplement 2016 by Ernst & Young)
Difference Between Abbreviated and Abridged Accounts
Filing Abbreviated accounts gave companies the liberty to choose which information should be made public and which shouldn't be. To prevent their financial information from going public, they would prepare full accounts for its members and later decide if they need to be abbreviated or not for public record.
According to the new regulations, companies can no longer follow this practice. On the contrary, they are now required to prepare and file the same set of accounts for the public record and its members. Basically, abridgement of accounts refers to the way accounts are prepared and not an option that one can fill or tick in a form.
Consent
The decision to abridge accounts is not for the directors to take alone. It must have the consent of each member and only then can this decision be taken. Once each member has given his or her consent, the Companies House can be informed of it through an official statement.
This consent must be taken from the members each year and therefore the practice of continuing authority cannot be practised here.
Filing Rules
According to the Filing rules, including a note in the filed accounts is sufficient to inform the Companies House of the decision to abridge accounts.
Filleted Accounts
Small companies have been given the provision to not file the director's report and/or a copy of the profit and loss account with the Companies House. A company that exercises this right is known to have 'filleted' the abridged accounts.
Effect on Micro-entities
The exemptions that are availed by small companies can also be availed by micro-entities. They are only required to file a copy of their balance sheet along with a small number of notes, which should ideally appear at the foot of the sheet.
Also, micro-entities are not required to file a director's report or a profit and loss account.
Effect on Dormant Companies
The change of regulations does not change the fact that dormant companies are still required to file their full accounts with Companies House.
They have, however, been given the option to 'fillet' or abridge their accounts, if they are small in size.
Effect on Small Public Companies
Small public companies are still being excluded from the small companies regime and therefore the change of regulations have not had any real impact on them.
However, there is slight relief for these companies. Previously, accounting exemptions were severely restricted for any company that contained a public company within.
These rules have been relaxed to quite an extent. However, if the public company is involved in trading securities on a regulated market then the restrictions remain enforced as earlier.